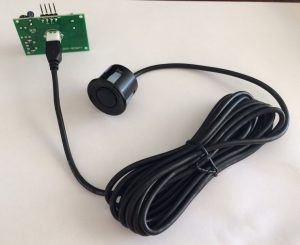 The serial-output of the DYP-ME007Y ultrasonic range detector is pretty good when you are measuring the distance to a static object with little or no other obstacles creating 'noise'.
However, the odd spurious reading does crop in from time to time. For example:
201cm
201cm
201cm
128cm
201cm
201cm
201cm
201cm
201cm
201cm
This is actual data, and the spurious 128cm makes no sense and needs to be ignored (rather than just taking an average). Fortunately, @JMMS-Karunarathne and @MikeMeinz wrote some code to correct for this here: https://www.codeproject.com/tips/813946/a-method-to-ignore-anomalies-in-an-ultrasonic-dist
The code takes a group of samples and counts how many of each there are. It then picks the measurement with the highest count (the 'mode'). In the above example, there are 9 counts of 201cm – which would be returned as the measurement.
So far, so good..
However, there is a problem where all the data is rubbish. Look at this actual data:
275cm
273cm
273cm
275cm
0cm
483cm
0cm
0cm
125cm
235cm
274cm
274cm
274cm
690cm
816cm
274cm
274cm
273cm
0cm
483cm
0cm
274cm
274cm
90cm
184cm
292cm
273cm
539cm
648cm
316cm
This was produced by out-of-range measurements – the object was less than 28cm from the sensor. The measurement which occurred the most was 274cm and so the algorithm would return this seemingly meaningful result.
An improvement to the 'mode' routine would be to apply a 'confidence' to the measurement. In my code, I take 30 readings, and require a minimum of 20 of the same to accept it as a good measurement. I try this five times over, after which the routine gives up and returns a zero indicating out-of-range. This seems to work well.
Except some of the time. This looks like good data:
82cm
82cm
82cm
82cm
83cm
82cm
82cm
83cm
83cm
83cm
83cm
83cm
83cm
83cm
83cm
82cm
83cm
83cm
83cm
82cm
82cm
83cm
82cm
83cm
82cm
80cm
83cm
83cm
82cm
82cm
confidence was 16
Returning 0cm
Here 83cm was only measured 16 times. This was an absolutely static measurement on the bench, however the returned value was either 82 or 83cm (ignoring the 1x 80cm!).
The way to deal with this is to look at the readings +1 or -1 from the mode. If either the count of the mode, added to the count of the mode+1, or mode-1 adds up to at least the threshold, then the result is good.